Silent Discos
Are you looking for something a bit different?
Silent Discos are simply great fun! Our 2 and 3 channel silent disco headphones allow each guest to choose between the different channels so they can find their perfect groove. You can provide your own music by your favourite DJ or use someone's phone, laptop, MP3 files on one or more of the channels whilst the DJ continues to spin the main tunes. Watch with hilarity as some of your friends are singing to one channel and others are moving and grooving to a totally different vibe.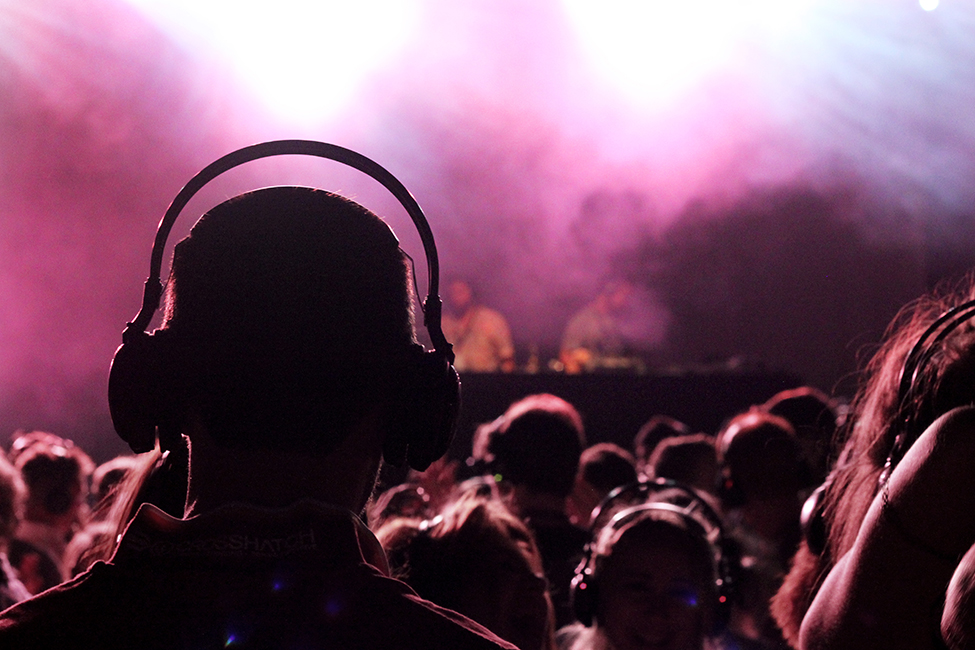 Why not party in to
the night?
For proper party goers that wish to continue the party into the early hours or need to get past venue restriction or don't want to disturb neighbours then a silent disco is the way to go.

How do the silent
Headphones Work?
With a Silent Disco music is broadcast via a radio transmitter with the signal being picked up by wireless headphones worn by each guest. Those without the headphones hear no music, giving the effect of a room full of people dancing to nothing. However, not all Silent Headphone are born equal. Our headphone at Trick Productions give the best sound quality on the market and come individually wrapped and sanitised so each headphone is clean and in like new condition.
We can cater from 25 headphones right up to 2000! Whether your planning on a small intimate gathering or a massive party, we provide the system along with help and support for all your guests.

I'm so glad we went with your idea of a silent disco at our wedding, to get around the venue's sound restrictions. We couldn't stop laughing at the sight of people dancing to different tunes – Hilarious! Thanks Simon.
Vicky and Ben – August 2018
Contact Trick Productions
We would love to discuss your wedding in more detail. If you're looking for a professional and experienced entertainment package, offering a bespoke service with competitive prices and years of wedding experience, then why not fill out the contact form below to liaise with Simon directly.