Why book
Trick Productions?
Trick Productions presents a complete solution for your event entertainment. 
We provide spectacular Sound and Vision for Weddings, Parties and any type of Celebration.  Our Team provide Skilled and Professional DJ's, DJ lighting, Venue Lighting, high quality PA systems, Live Percussion and Video Backdrops in Birtsmorton, Worcestershire & surrounding areas.
Trick Production is managed by Simon Dawes who is both an experienced professional in the events industry and a creative and passionate DJ.
Find out why Trick Productions DJ's will make your wedding memories last a lifetime.
Read more >
Find out why Trick Production are leading innovators in party planning and production.
Wow your guests with a spectacular personalised light show. Trick Production's VJ's create an unbeatable visual treat.
Don't let noise or venue restrictions dampen your party spirit. Let Trick Productions create a groovy Silent Disco that will amaze and amuse your friends.
Give your event that Festival feel to take your celebrations to the next level.
We provide a creative solution
and let you take all the credit
Trick Productions is based in Worcestershire, on the border with both Herefordshire and Gloucestershire and are ideally suited to serving clients in
the South West, Midlands, London and other parts of the UK.
The company is managed by Simon Dawes who is both an experienced professional in the events industry and a creative and passionate DJ.
"My passion for music started as a youngster and I've been building a substantial record collection ever since.  My music taste covers 120 genres and eight decades. When I was in my twenties, my enthusiasm for music became well known amongst my friends and family, and people started to ask me to DJ at their parties – I've been hooked ever since".
At Trick Productions we aim to exceed your expectations by providing you with the Best Quality Equipment, Most suitable DJ's, great client support at an affordable price.

Innovators in the events industry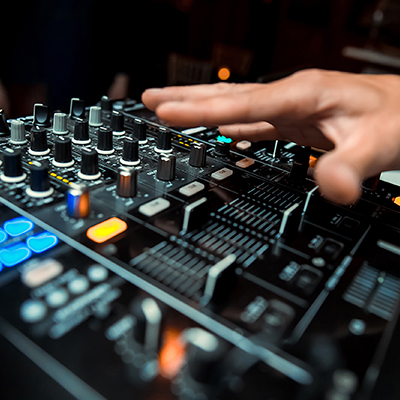 The Latest Equipment
Latest Traktor Software and Controllers for the best DJ performance
Industry standard top of the range 2018 Yamaha PA systems for small events
Bespoke PA systems for larger events
Proffesional grade event lighting from ADJ, Chauvet, Marq
An APC Battery Surge Protector and Filter with 20 minutes battery back in case of power failure
Choose your style of DJ
Experienced Wedding DJ's that focus on fully exclusive music for all your guests
Bespoke Service that includes extensive liaison prior to your event
Tailored music choices for all events
Specific DJ's for certain Music Genres including; R&B, House, Techno, Trance, Lounge, Urban, Country & Western, Drum & Bass and many more….

We told Simon about our favourite tunes, and why they meant to much to us. On the night he played the best of our favourites, mixed with some additional floor fillers that kept our whole wedding party dancing all night.
Nick and Ali
To see my whole family, including my 80 year old Granny, singing along whilst dancing to some Classics, will be a memory I'll keep forever.
Mandy and Robert
Contact Trick Productions
We would love to discuss your wedding in more detail. If you're looking for a professional and experienced entertainment package, offering a bespoke service with competitive prices and years of wedding experience, then why not fill out the contact form below to liaise with Simon directly.